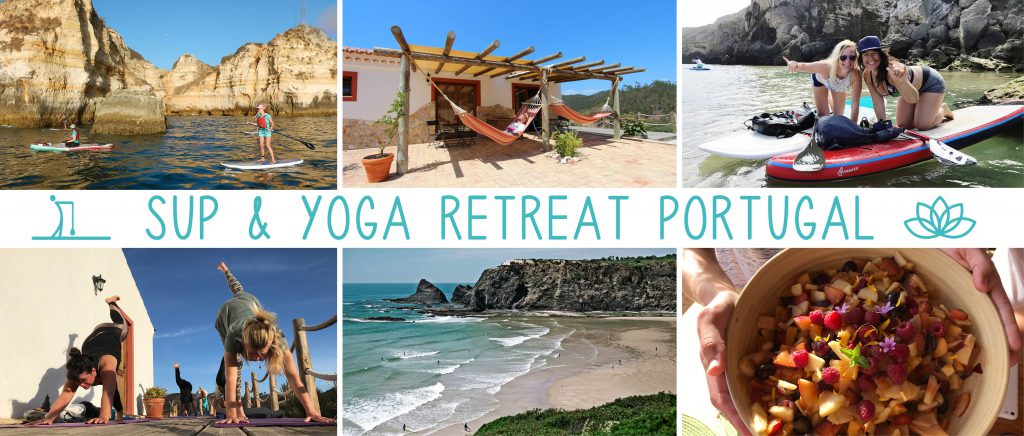 Voor Nederlands: ga hierheen
INTRO
We have found the perfect SUP-destination! An eco-retreat in "Costa Vicentina National Park" in the south of Portugal (Algarve), far away from the pumping, tourist-filled beaches and resorts, where you still can experience the authentic Portugal life with nature, beaches and charming villages.
What makes this spot so ideal for Stand Up Paddling? You can go and paddle at a wide variety of (calm) waters. There are gorgeous rivers running through the valleys and a endless breath-taking unspoiled coastline where you can paddle along the cliffs, explore fabulous grottoes and discover secluded secret beaches. The turquoise waters are very attractive to dip into and cool down in hot summer days.
If you want some more adventure you can also go (sup) surf ocean waves in some of the bays on the west coast.
This SUP trip is suitable for anyone, beginners or experienced Stand Up Paddlers. You also don't need to have a lot of yoga experience (you can also skip this part of the program, but we highly recommend you to join!). It is all adjustable to your abilities and needs. You can come together with a friend, as a couple or single. It will be just fine.
DATES 2018
May 26 – June 2
September 16 – 23
GROUPSIZE
6 – 10 participants
LOCATION
Odeseixe
Odexeixe consists of 2 parts really; the old town with white stone houses, and a photogenic old windmill stacked upon a hillside. 4 km west of the main town, following the river Seixe – which divide Alentejo and Algarve – into the valley towards the ocean, you find Odeceixe beach and it's small settlement with a surf school, some bars and restaurants. The bay is enclosed by cliffs and an absolute beauty with endless hiking options along the cliff tops. (I love the seaside)
Vida Pura

We will stay an Eco retreat & inspiration Land' Vida Pura. At this side everything feels peaceful. The retreat, set in an Idyllic valley, is based on bio-dynamic principles. They grow their own food and donkeys, dogs, cats, ducks and chickens wander around happily. Robin is one of the owners and he explains. "it's our wish to give people an opportunity to experience inner peace just being here, and at the same time share our idea of living a pure lifestyle, ethical and eco-friendly." (I love the seaside)
For more info about Vida Pura see this video
Accomodation
Vida Pura offers different options for accomodation. You can get full privacy staying at your own apartment or stay in the main guest house with shared facilities. We have a villa for ourselves with a spacious kitchen and living area and terrace with magnificent views over the valley and the river Seixe. The villa offers one master bedroom with en-suite (bath, toilet, sink) and can accommodate maximum three people with 3 single beds or 1 double plus 1 single bed.
There are two smaller double bedrooms with a shared a bathroom between them. All the rooms have access to the terrace, hammock area and wifi. If you want to experience more of the outdoors there are also really nice tipi-tents.
For some more privacy and space there are also apartments, this is an option for friends or a couple traveling together
The apartments come with 1 bedroom with double bed, bathroom with shower, toilet and sink, living/dining area, kitchen with stove, oven, fridge, sink, privateterrace with great view, outside shower, access to hammock area and WiFi.
FOOD
Every morning there will be a delicious breakfast on the terras of the main kitchen ready for you with a wide variety of options to choose from. Think lot's of fruit, oatmeal and other healthy stuff. We also have 4 diners prepared by a Valentina, she's the local chef. She makes everything mainly with vegetables fresh from the garden. The food is based on a Macrobiotic diet and is vegetarian. Perhaps it sounds all to healthy and boring, but it really taste like a haute cuisine! Other options are also possible in you have any dietary requirements. Just let us know in advance and we will make sure that your needs are covered.
The other evenings you are free to make your own diner (with use of the kitchen facilities) or go out and have a nice Portugese bite somewhere else. Transportation can be arranged. Depending on the group we can organize to go together to a nice restaurant.
ACTIVITIES
Yoga
We have 5 yogaclasses in the program complementary to the supactivities. The yogaclasses will take about 1 / 1,5 hour and are held at the yogadek with stunning views over the valley. It really is magnificent to wake up every morning with a dynamic yogalesson tp prepare your body for the paddling later that day. On other days we will have a more relaxing yin yoga class at the end of the day. So your mind and body can totally relax and let go of any tension.

Our local yoga-teacher is Catarina Ferreira. We are so happy to have her in our team again this year! Her way of teaching is gentle and strong at the same time. A beautiful combination of yin & yang. Follow her on instagram of facebook
SUP program
We work together with a local SUPschool. The local tourguide will take us on a journey through the nicest spots in the area. They have all high quality gear, both inflatable supboards as hardtops. For beginners there will be enough introduction and time to get you going, for the more experienced paddlers, we can still work on your techniques.
These sup-activites are planned*:
Odiceixe River Tour (4 h)
Lagos Grottos sunrise tour (3 h)
Secret beach tour (3h)
SUP Wave session (2/3h) / SUPyoga (2/3 h)
*depending on the waterconditions that week, we will see in what order
Every SUP Tour include an experienced guide, all equipment (board & paddle + wetsuit/lifejackets if desired), high quality GO PRO photos of you on your tour and pick up and drop off.
Options:
Amoreira River Tour (4 h)
extra SUP Wave session
surflesson/-rental
kitesurflesson
massages
mountainbiking
horsebackriding
Sightseeing:
Aljezur, medieval town
Carrapeteira, cute small town close to beach
Praia de arrifana, the surfy village
Lagos, a mid-size old harbour town great for shopping
Sagres, with impressive cliffs of the Cabo S. Vicente and the most southwestern point of the European mainland
ORGANISATIE
Caroline Ammerlaan (founder of SUP's UP) organizes this SUP yoga retreat together with Marloes Engelhart. She is a life coach and with her loving and warm appearance alone she will touch your souls.  By origanizing a couple of fun and inspiring workshops and her overall guidances throughout the week she will challenge you to see your own unique qualities better and embrace them. So you can get more out of this fulfilling week. For more info about Marloes check her website or follow her on instagram
We also work with the locals.  The accomodation, yogaclasses, the SUP-tours and the food is all take care of by the sweetest and finest local people. They know about life in this region and everything to make the best out of it.
The whole team can't wait to welcome your at Vida Pura to share this great SUP retreat week with you!
OVERVIEW
Included
* 7x nights accommodation
* 7x breakfast
* 4x dinner
* 5x yogalesson
* 4x SUP activities
* transport to the SUP activities
Excluded
* Flight
* transfer airport – Odeseixe / Odeseixe – airport
* Insurance
* Car rental
TRAVEL
You can fly both to Faro and Lisbon. For buses from Lisbon – Odeseixe: http://www.rede-expressos.pt/default.aspx and Faro – Odeseixe http://www.algarvebus.info/
We can arrange transfers to our location from Lagos and from the airport too. Prices depend on the group and this will be organized in consideration.
If you like to be more independent, you can also rent a car at the airport.
This will give you more freedom to explore the surroundings on your free time.
PRICES
| type accomodation | Price per person | |
| --- | --- | --- |
| double room (villa) with shared bathroom (2p) | € 750,- | |
| double room (villa) with bathroom ensuite (2/3p) | € 800,- | |
| tipi with shared bathroom (2p) | € 750,- | |
| apartment for 2 p with your own bathroom, kitchen en living area | € 850,- | |
| single occupancy (extra fee) for room / tipi | € 150,- | |
NB These are EARLY BIRD prices, €50,- will be added if you book after 15 Januari 2018.
A deposit of non-refundable 200€ is required to hold your spot, full balance is 1 month before the start of the retreat.
If you have no interest in joining the yoga-classes, you can get a discount of  €50,-. If you travel on your own, you
In case you are a solo traveler, there is no need to book the single occupancy unless you prefer total privacy. Most people come on retreats on their own and I will team you up into sharing rooms.
Is this your trip? Send an email to info@supsup.nl or call 0618817487 and ask any questions you still have. All the information will be send to you…